Frequently Asked Questions
Top Five Questions
Why choose us for GP tuition?
Liau Chuan Yi
2023-01-25T05:58:49+00:00
GP poses a unique challenge to educators. To excel, students must both be equipped with practical skills as well as with the ability to think and reason for themselves. Yet, these goals lie in tension with one another.
The formulaic approach pursued by some tuition centres works well in achieving the former goal but not in developing critical thinking skills. Such approaches are, moreover, extremely boring and arguably even harmful to the student's intellectual development and personal growth.
Our GP classes seek to achieve a healthy balance between the two goals by relying on a structured curriculum, supplemented by thought-provoking discussions about important current affairs issues.
We believe that the best testament to our success lies in our students grades as well as the unvarnished feedback that they have given us in their testimonials.
In 2021, 97% of our students scored 'A' and 'B' grades for GP.
Every year, over the past five years, our 90% of our students scored 'A' and 'B' grades using this approach.
We have also succeeded in helping weaker students excel, with an average improvement of three grades (i.e. D to A).
About Our Lessons
Is a deposit required and what is it for?
Liau Chuan Yi
2023-01-26T01:52:24+00:00
What are the exact terms of the security deposit?
Please refer to the following for the exact terms of our policy:
1) The security deposit will be used to cover the last four lessons upon withdrawal or graduation.
2) The security deposit will not be forfeited.
3) This means that students can still attend lessons until the security deposit is fully utilised.
4) The security deposit is non-refundable except in the event of a change of tutor or the discontinuation of the GP lessons.
What happens if I miss classes?
1) You can simply attend another class within the same week. All classes within the week (Mon to Sun) cover the same material.
2) If you cannot make it for the entire week, please watch the recording whenever you are able to.
3) As recordings and notes are still provided, please note that no refunds will be given if you do not turn up for the live classes.
Why do you have to collect a security deposit?
Collecting a security deposit allows us to do what we do, and focus on helping our students rather than chasing students and parents for payment. It also allows us to avoid suspending a student from lessons due to late payment. Finally, it ensures that students do not abruptly start and stop lessons from month to month. This would be disruptive, both for the teacher and the student.
The full name of our tuition centre is My Mustard Seed Tuition Centre. We have a physical address at 201B Tampines St. 21, #02-1069, Singapore 522201. We have been operating for over two decades. If you have any further concerns, please feel free to reach out to us.
Why is the minimum commitment period 8 weeks?
We want to see our students all the way through till their A-Level exams. Our goal is not to increase our student count but to fully help those that do choose to enroll with us.
This means that upon registration, we provide our students with many things that are not limited to the regular classes. From the very first week, students gain full access to all of our resources and recordings at no additional charge. They are also free to consult with Mr Liau himself on any queries or past recordings (from our LMS) that they have questions about. All of this is offered as part of the heavily discounted package (effectively $80/week in 2023).
While we understand that many places offer trials (some even free), we seek your understanding that we have different requirements because we operate differently.
All students are personally taught and guided by Mr Liau himself. Accepting too many trial students inevitably means that existing students end up being neglected. In many cases, this means that tuition centres outsource the teaching of existing students to junior teachers and the learning experience changes dramatically after the trial is over. We never wish to shortchange our students that way.
Are the lessons conducted under an established tuition centre?
Yes, the full name of our tuition centre is My Mustard Seed Tuition Centre. We have a physical address at 201B Tampines St. 21, #02-1069, Singapore 522201. We have been operating for over two decades. If you have any further concerns, please feel free to reach out to us.
Please refer to the tuition centre's business profile below.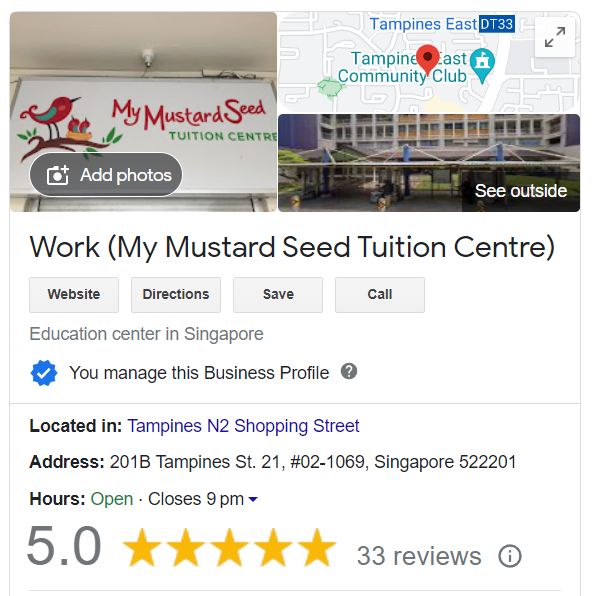 About Online Lessons
Why online lessons?
Liau Chuan Yi
2023-01-26T01:50:15+00:00
We only conduct online lessons because they are more effective.
Students frequently tell us that our lessons are radically different from the typical online lessons that they received during HBL in school / other tuition centres.
In particular, they find that our lessons have helped them remain more engaged, have given them more opportunities to complete practices and receive feedback, and have eventually helped them score well in exams.
We are thus the only tuition centre that only offers online lessons for GP. 100% online. No physical classes. First and only in Singapore to do this.
We help our students achieve good results by effectively using technology to provide simultaneous student engagement and collaboration opportunities. We are also better able to provide feedback, recordings, notes and resources online. Students who have doubts can easily raise questions and receive answers.
In fact, our students have performed even better through online lessons than before. Our online lessons have enabled our students to achieve 97% A and B grades for GP, an increase over physical lessons.
Ultimately, our lessons are only available online. So the only way to benefit from our expertise and guidance is through these online lessons.
Mr Liau is certified in Online Teaching and Education by the University of Illinois at Urbana-Champaign (Post-Graduate).
He is the invited author for the A-Level General Paper Answer Key (2021-2022).
All classes are taught by Mr Liau.
For more information about how students feel about how classes, you can read their reviews here: https://gptuition.com/testimonials/
About Trial Classes
Do you offer trial classes?
Liau Chuan Yi
2023-01-26T01:54:05+00:00
We do not offer trial lessons as we are not that kind of tuition centre (see details below).
We adopt a unique research-driven pedagogy that is unmatched in Singapore. Our curriculum and materials are developed by Mr Liau himself, the author of the 2021-2022 A-Level answer key. Mr Liau personally teaches all classes. Registered students can go directly to him for help and guidance.
Our track record of 97% A and B grades speaks for itself and we are happy to let our former students tell you what you can expect from our classes. You can check out their reviews here: https://gptuition.com/testimonials/
The full name of the tuition centre is My Mustard Seed Tuition Centre. We have a 100% five-star review on Google with many happy students and parents. We have been operating for over twenty years.
Why don't you offer trial classes?
Liau Chuan Yi
2023-01-26T01:57:18+00:00
Trial classes undermine the learning and development of long-term students because lessons must be dumbed down to cater to the constant influx of new students. The teacher's attention is also diverted towards satisfying trial students rather than teaching the entire class. This is unfair to long-term students and does nothing for trial students either (since they too would eventually become long-term students). Students who attend such classes often end up discovering that they are merely repeating the same superficial basics over and over again. This is a complete waste of money.
In fact, trial lessons are not representative of what a student will experience throughout the year since trial classes can easily be manipulated to appear better than the actual classes. It is quite common for some places to engage in a form of "bait-and-switch" where the founder teaches the trial class but other classes are taught by trainee teachers. Only the tuition centre's bottom line is enhanced by this arrangement.
For our part, our primary interest lies in the education of the students we are entrusted with. We have more than enough students every year so we absolutely have no qualms about taking in fewer students to ensure that those who do join us get the very best.
We will let the results that we produce speak for itself. We cannot comment on the practices of other tuition centres save to say that we disagree that such practices are in the best interests of students.
If you have confidence in your classes, why don't you offer a trial? How else can I be assured that your classes are good?
Liau Chuan Yi
2023-01-26T01:57:41+00:00
Actually, it is precisely because we have great confidence in our classes that we do not need to offer a trial. Moreover, we are fast approaching our yearly enrolment limit so we have no need to resort to gimmicks like that.
If you are still unsure if our lessons will be suitable for you, feel free to reach out to us and we will try our best to address your concerns.
If you still do badly after attending our classes for more than 3 months, please reach out to Mr Liau. He will personally mentor you for the rest of the year to ensure that you do well.
Note: If you subsequently encounter any issues over the course of the lessons, we encourage you to reach out to us for additional assistance or individual guidance.